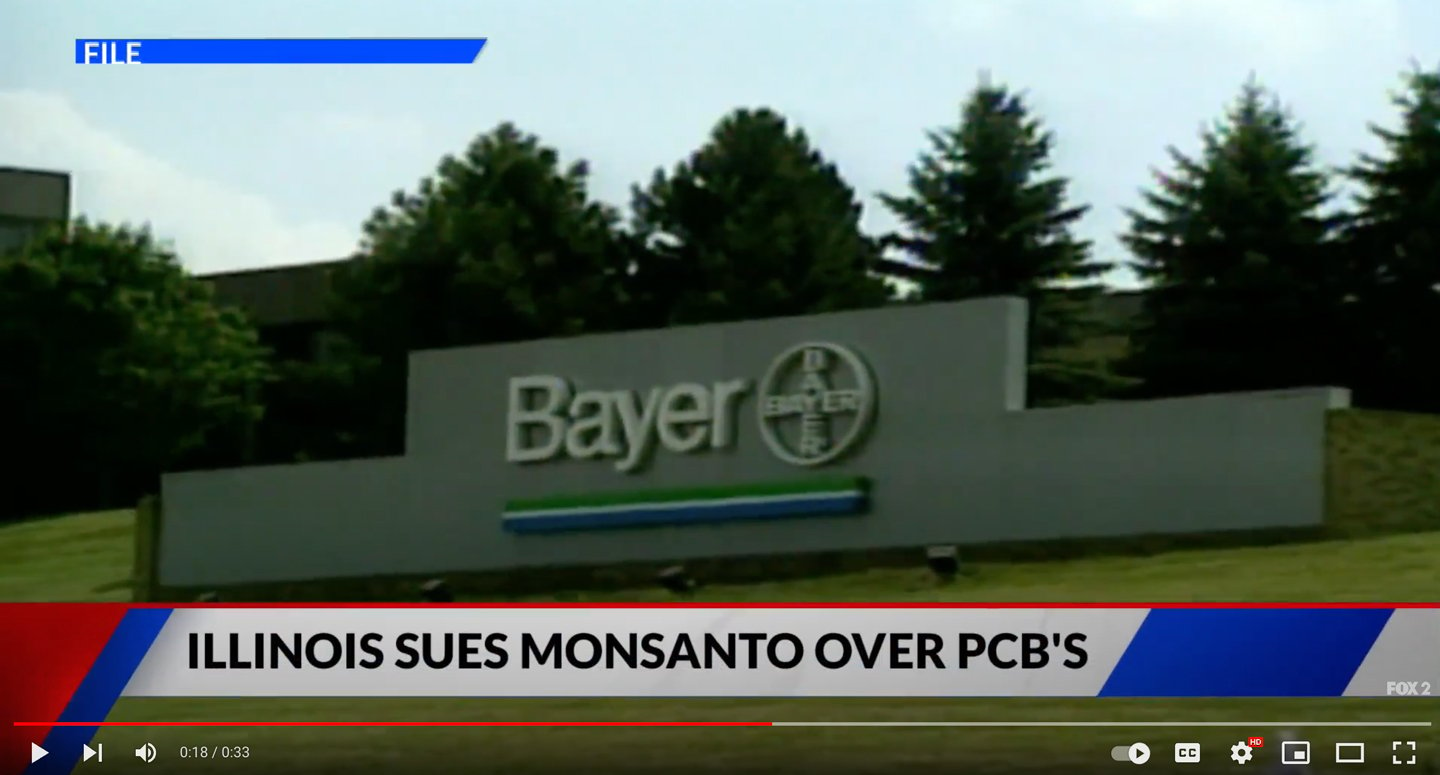 Press Release Published Date:


August 29th, 2022
Press Release Transcript:
Raoul Alleges Monsanto's Decades of PCB Production Caused Ongoing Contamination Near Sauget Facility and Throughout Illinois
Chicago — Attorney General Kwame Raoul today announced a lawsuit against Monsanto Company (Monsanto) and affiliates Solutia Inc. and Pharmacia LLC for the continued environmental and human health effects of Monsanto's decades-long production of polychlorinated biphenyls, known as PCBs. In addition, Raoul seeks to hold the companies accountable for its purposeful deceit surrounding the dangers those chemicals posed.
The hazardous chemicals have been banned by the Environmental Protection Agency (EPA) since 1979. However, nearly all PCBs used in the United States were manufactured by Monsanto, many of them at the company's facility in Sauget, Illinois. Raoul's lawsuit alleges the company was aware of the chemicals' toxicity while publicly denying any knowledge of the danger to human health and the environment.
"Taxpayers should not be left to shoulder the financial burden caused by these companies, whose reckless behavior led to contamination across Illinois," Raoul said. "PCBs have been banned in the U.S. for decades. Yet, Sauget and its surrounding communities are still dealing with the environmental effects of Monsanto's decisions to continue producing and disposing of a dangerous toxic chemical. It's time Monsanto is held responsible for its actions that continue to impact Illinois' natural resources."
As a result of Monsanto's misconduct, PCBs and other hazardous substances now widely contaminate Illinois' natural resources. Raoul's lawsuit seeks to recover compensation for damages to natural resources caused by Monsanto's decades-long manufacture and distribution of PCBs, and to hold the company accountable for both statewide contamination and contamination in and around Monsanto's industrial operations in Sauget.
PCBs are hazardous chemicals that were used in a diverse range of products, including paints, caulks and industrial electrical equipment lubricants. From 1960 to the mid-1970s alone, Monsanto sold nearly 50 million pounds of commercial PCB mixtures to customers in Illinois. To this day, Illinois suffers from immense PCB contamination resulting from Monsanto's conduct in the design, manufacture, use, marketing, sale and distribution of commercial PCB mixtures. For decades, Monsanto discharged massive amounts of hazardous wastes from its Krummich Plant in Sauget directly into the surrounding environment, including into sewers that allowed the toxic waste to enter the Mississippi River. In addition, hazardous waste was dumped into landfills that allowed the waste to leach into surrounding soil, water, groundwater and air.
Sauget – a town of only 141 residents – is home to two EPA superfund sites and is surrounded by East St. Louis and Cahokia Heights, two economically depressed, majority-minority communities which bear the brunt of the environmental contamination caused by decades of Monsanto's reckless practices in Sauget. The groundwater in and near Sauget is so significantly contaminated that local ordinances in East St. Louis, Sauget and the former Cahokia prohibit the use of groundwater as a potable water supply. Groundwater in the area is not even a viable option for industrial use due to contamination.
"The legacy of PCB contamination caused by these companies has plagued Illinois' air, land, and water resources for decades," said Illinois EPA Director John J. Kim. "In its latest step to guard against the impacts of PCB contamination, Illinois EPA has worked closely with Attorney General Raoul's Office and the Special Assistant Attorney General to ensure these companies are held accountable for the contamination that has impacted the people and environment of Illinois."
Human health effects associated with PCB exposure include cancer, reproductive toxicity including increased difficulties conceiving, neuro-developmental and neurobehavioral changes and liver, thyroid, dermal and ocular changes.
Attorney General Raoul's lawsuit against Monsanto is part of Raoul's work to hold companies accountable for pollution in environmental justice communities. Attorney General Raoul's Environmental Enforcement Division, which enforces civil environmental laws, has recovered millions of dollars from polluters and required companies to undertake environmental improvement projects in communities impacted by pollution. Raoul encourages residents to report environmental justice and other environmental concerns to his office by emailing ej@ilag.gov.
Division Chief Matthew Dunn, Bureau Chief Stephen Sylvester and Deputy Bureau Chief Gerald Karr, along with Assistant Attorney General Elizabeth Dubats are handling the case for Raoul's Environmental Bureau. In addition, attorneys from Power Rogers LLP and Grant & Eisenhofer P.A. will co-prosecute the case as special assistant attorneys general.
— Source URL: https://illinoisattorneygeneral.gov/pressroom/2022_08/20220829b.html